You have a crush on one of our rings but you do not know which finger size to choose? You are at the right place, follow the guide!
At LA BRUNE & LA BLONDE, rings are available in sizes 48, 50, 52, 54 and 56. Other sizes can be made on request, so do not hesitate to contact us!
Here is our precious advice to find YOUR perfect size.
Get your printer and print the ringer below at full size (100% scale) by clicking here. For the proportions to be well preserved, the black line must measure 10 centimeters.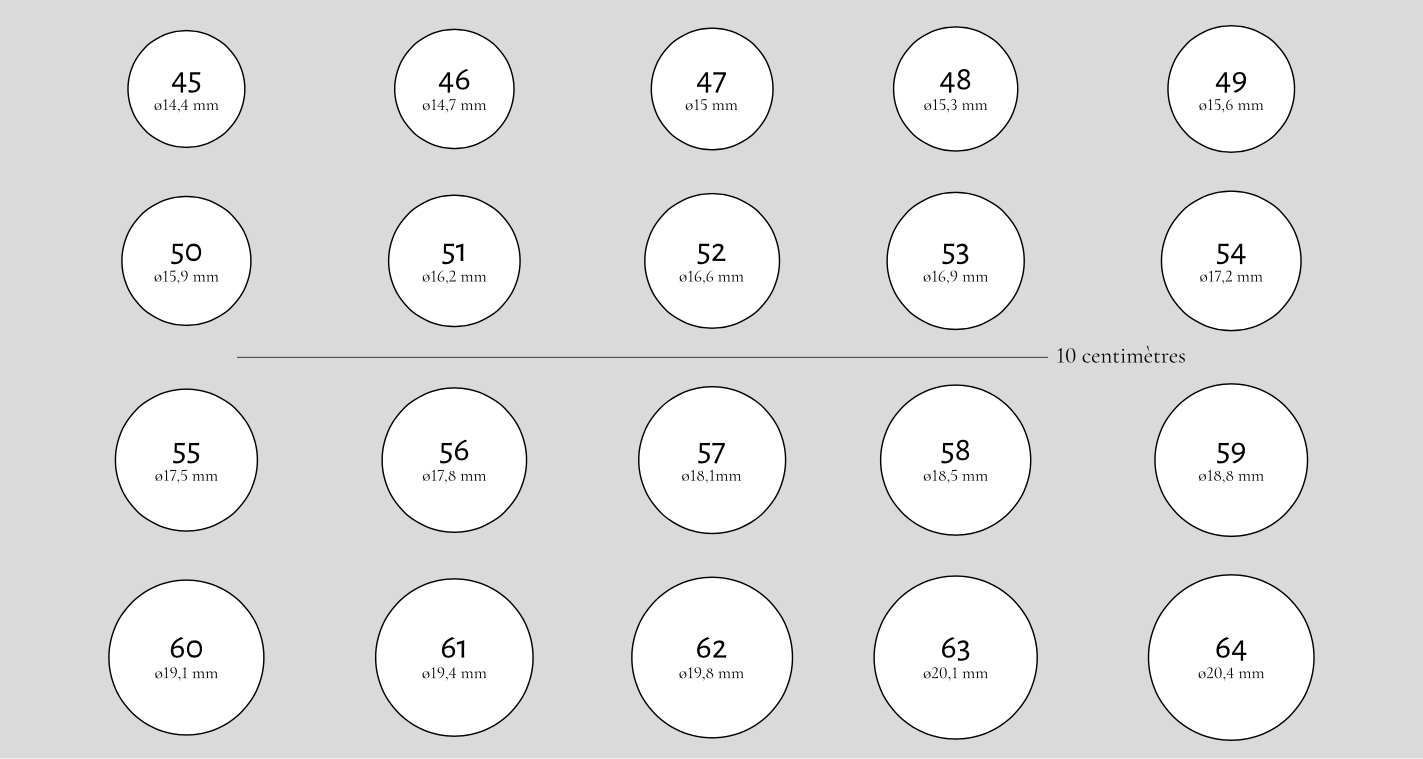 YOU ARE ON THE RIGHT TRACK
If two sizes seem to fit you, take the larger one. Since fingers tend to swell, you will always be more comfortable in the large size.
LA BRUNE & LA BLONDE n'effectue aucune commercialisation, location ou divulgation de vos informations personnelles à des tiers autres qu'une autorité administrative ou judiciaire qui lui en aurait donné injonction.
Par ailleurs, en vue de respecter pleinement vos droits et de protéger vos données personnelles, LA BRUNE & LA BLONDE s'engage à ne pas diffuser de données personnelles vous concernant à des tiers auxquels elle n'aurait pas confié une mission liée à la transaction effectuée sur la Boutique en ligne LA BRUNE & LA BLONDE. Ce faisant, certaines données vous concernant sont susceptibles d'être partagées avec les opérateurs suivants :
– opérateurs de transports ;
– opérateurs bancaires ;
– administration dans le cadre des obligations déclaratives ou toute demande de la part des institutions auxquelles la Société doit faire face ;
– tout autre tiers dont l'intervention au titre de la vente serait nécessaire.
En tout état de cause, dans le cas où votre consentement serait requis en vue de la transmission de vos données à une tierce personne, votre consentement sera recueilli au préalable depuis le Site Internet et les informations y afférentes seront portées à votre connaissance.